Portland's first cannabis courier service
What's more exciting than entering a new burgeoning industry? How about a unique niche in a new burgeoning industry? Rip City Delivery fit that description. Being only days away from being the first licensed cannabis courier in Oregon, they were still the first on-demand cannabis delivery service. I was involved in this mere days after the business was officially licensed, meaning they needed EVERYTHING.
The goals for RCD were straightforward: sell product and sell more over time. To achieve these goals, the ordering process needed to be as smooth and straightforward as possible.
Various features were recommended to keep the service up to date with other apps that were similar. Features like SMS and push notifications for live updates, an order status screen, rating screens, and user accounts for promotions and deals were pitched.
Sadly, the budget for the client was far too low to include all of the recommended features. It only allowed for a simple e-commerce website. This hiccup, paired with the OLCC requirements, meant we could only work in the SMS updates on top of the foundational work.
To whom were we speaking? I dove into the data available and constructed our persona, 27 year old Gavin. I referred to Gavin at every decision to make sure the copy, designs, and functionality were adequate for him.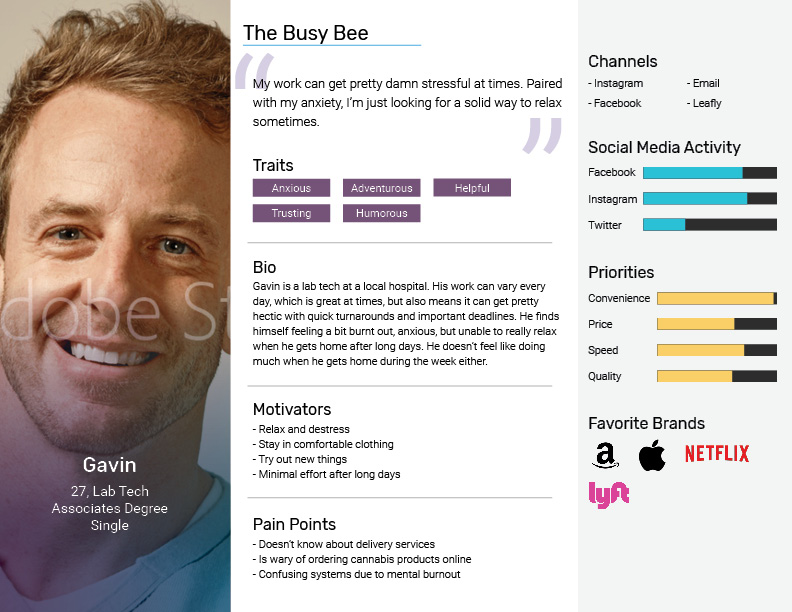 User flows were used to inform the design and development process. From organic search or Instagram to landing pages, product pages, carts, checkouts, and receiving products, each step was analyzed to identify points of resistance.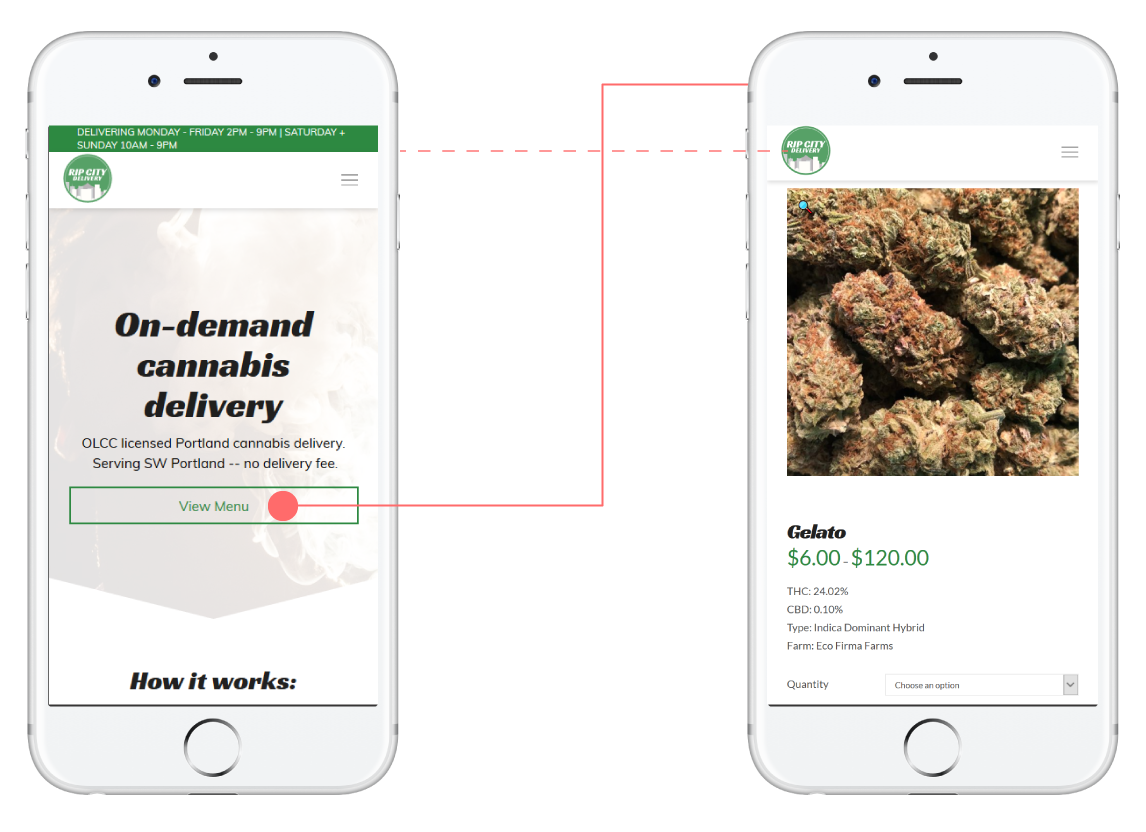 Brand colors were used throughout the design to indicate points of interest and calls to action. Customized order options were added to the store page for expedited checkout options. Overall, the design was kept simple to let people focus on the product.
After the website launched, we reviewed, tested, and received user feedback for further design changes. Each month, an allotment of hours are used to make adjustments to the website to improve the user experience.
Every project has its compromises. This project had many due to a highly restrictive budget. I hope that RCD can pull in enough revenue to afford a full-fledged mobile and web application with all of the features proposed initially and more. The WordPress-based website appears to be working, but feels a little "hacked" together. I believe a native mobile application will help create a seamless, consistent, and personalized experience for users, as is always the goal.
I look forward to working on similar projects while RCD works its way up to a full web and native mobile application.
Adobe XD
Adobe InDesign
Adobe Illustrator
WordPress
WooCommerce
Twilio
Google Analytics